Metal Stamping Service and Cutsom Solution
Feng Yu is a distinguished custom metal stamping service company, specializing in providing high-quality, tailor-made solutions to meet each customer's specific needs. Leveraging advanced technologies and accumulated expertise, we ensure excellence in every aspect of our services.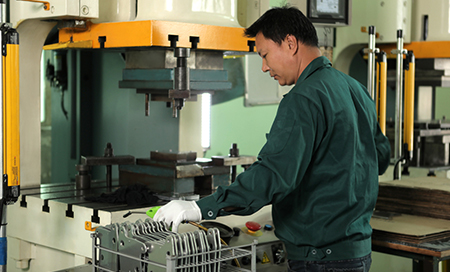 Stamping
MAD Group
Feng Yu Metal Stamping uses professional and precise stamping technology to transform materials into various die shapes, such as embossing, stretching, cutting, stretching, forming and other stamping shapes and sizes, according to customer needs and products. In this way, we plan to meet the your specific needs, carry out customized production and tailor-made your satisfactory finished products.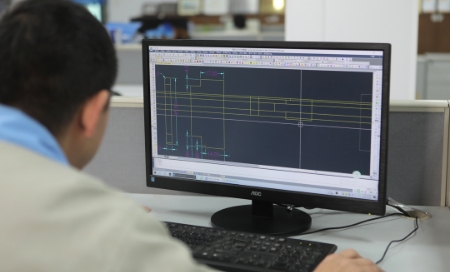 3D CAD/CAM
MAD Group
We use 3D CAD/CAM to process various irregular shaped products. We generate 3D data from drawings provided by customers, create programs and perform machining.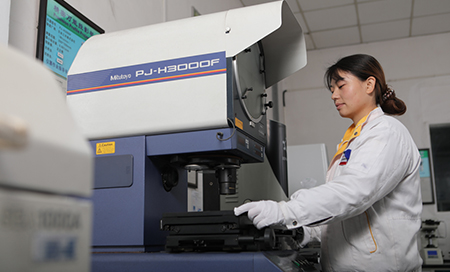 Test
Staff
At Feng Yu , we focus on creating our own standard inspection procedures. In addition, we carefully inspect all processed products for each stage at our in-house inspection site, we also check with high precision that the quality of the processed products is up to the standards after completion.
Production Management System
General Affairs Division
By introducing the special production control systems specially to single-piece processing and small batch processing, we have built a system that can respond to strict delivery requirements and ultra-short delivery requirements. Since everything is built and managed on the local network, data such as new products and confidential drawing data received from customers are not leaked to a third party. In addition, we have achieved a reliable and accurate production system by uniformly managing the arrangement of materials and orders from our partners. When defects occur, defect data is captured by the production control system and shared internally to improve the skills of all employees.
Other Processed Products and Finishing
General Affairs Section
At Feng Yu, we help our customers to collect various products from them at once. We have a very broad network across the country, due to our 50+ years of experience and achievements. Since our partners are professionals on precision machining, welding and base fabrication, laser machining and precision sheet metal machining, gear machining, gun drilling, special grinding, rubber baking, brazing, laser welding, various switchboards and controls by our partners, we Feng Yu are familiar with the methods and contents of the production and assembly of many machined boards. We are also familiar with a wide range of finishing treatments such as various electroplating and alumite treatments, various quenching treatments according to various coatings and materials, and various coatings such as Teflon. We will determine and propose an optimal processing method suitable for the purpose of use of the customer's product, including material, processing method, finishing process, and according to the strength of the product, the appearance of the finished product. During this process, we maintain a constant attention with everything related to the product before it reaches the customer.
The Process of Metal Stamping Service Project
Feng Yu has accumulated a solid experience and has polished a warm and professional approach with both old and new customers.
STEP 1
Make a Demand
After receiving customer's request within 1-2 working days, reply to the customer and make an interview.
STEP 2
Official Search
According to the requirements of international test specifications, search and confirm the content with customers, or provide factory test specifications by customers.
STEP 3
Planning Proposal
Depending on the customer's requirements and specifications, Feng Yu will plan the imported test products or the finished products.
STEP 4
Contract Signed
Both parties agreed on the specifications and quotations, and signed the contract.
STEP 5
Planning Process
In response to the demand for the finished products made by Feng Yu, Feng Yu will further provide a production plan after the contract is signed, and list the details and display the design drawings.
STEP 6
Medium-term Acceptance
After the production of the equipment is completed, the customer will be invited to carry out the inspection in the factory or to the original factory abroad, and make a pre-delivery memorandum.
STEP 7
Delivery Acceptance
Arrange colleagues to connect with customers to check the products and order the delivery products before shipping.
STEP 8
After-sale Correction
Feng Yu collects customer suggestions and understands inconveniences, and corrects them within the original expected specifications.
STEP 9
After-sale Service
Feng Yu also provides out-of-warranty service contract to improve product life cycle.
Stamping Mold and Die Related Process
Let our service and quality bring you relief and confidence.
Design Mold and Die Development Process - New product design management flow chart.
Provide New Products on Demand
Responsible person: Sales Division
Moulding Review
Responsible person: Sales Division, Design Division
Remarks : The Sales Team will review the design with the client
The Design Division will review the Mold and Die Technology/Quality Assurance
Mold and Die/Drawing Design
Person in charge: Design Division
Mold and Die Assembly, Testing, Proofing
Person in charge: Mold Section
Sample Inspection
Person in charge: Quality Assurance Section
Product Test
Responsible Person: Modeling Class
Sample Recognition
Responsible person: quality assurance class, Sales Division
New Product Briefing
Responsible person: Sales Division
Mass Production
Person in charge: Production Management
Prepare
Process
Documentation
Sign off
Completion
Mold and Die Assembly Process
After the design is completed, purchase the template for the mold and die process
Mold and die matching set
Sample review and testing
Mold and Die Maintenance Process
After the on-site production mold and die is defective, the operator will issue a bill for maintenance
After the technician receives the order, it will be repaired according to the damage of the mold and die
After being repaired, it will be sent to the quality control inspection
After the quality control inspection is confirmed, we will notify the production department to start the production
Mold and Die Damage Repair Process
Stamping production anomaly
Issue "Mold Repair Order" to the Mold Section
Review existing mold and die repair plans and formulate new maintenance strategies
After the mold and die maintenance personnel confirms that the maintenance is completed, we will proceed to notify the quality control verification personnel
After the quality control is confirmed, we will notify the production department to start the production
Production Department will notify the Injection Molding Section about the Production Process
The Product is Placed in the Absorbent Box After Processing
Quality Control Inspection
Applications
With superior metal stamping service, Feng Yu produces top-quality hardware components for various applications, showcasing exceptional precision capabilities.
If you have any needs for
stamping parts
or are interested in our metal stamping services, welcome to contact us.